Vallejo Speedway hosted more than just the Hardtop class, there were Super Stocks, Street Stocks, Super Modifieds, Sprints, etc. If you have any photos from any division that raced at Vallejo
E-MAIL
them to me in ipg. format and we''ll keep the memories of Vallejo Speedway alive!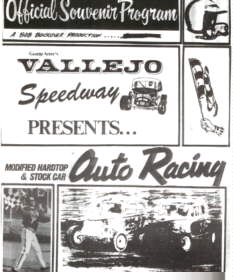 Vallejo Speedway Hardtops & Memories Pages

PLEASE WAIT WHILE LOADING.... LOTS OF PHOTOS



Vallejo Speedway hosted more than just the Hardtop class, there were Super Stocks, Street Stocks, Super Modifieds, Sprints, etc. If you have any photos from any division that raced at Vallejo
E-MAIL
them to me in ipg. format and we''ll keep the memories of Vallejo Speedway alive!


Vince Adams shares some memories of his father John who passed away November 6, 2007





John E. Adams was born August 3, 1941 and then passed on to the dirt track in the sky on November 6, 2007. He worked most of his years for Bay Cities Exavators. He was an avid race car driver. His home track was Vallejo speedway, but he also raced at Petaluma, Marysville, Antioch, and Placerville. Dad and his wife at that time, Sonja Adams were partners with Wayne and Mary Anne Schoonover, and Tom and Sharon Million, on the #0 chevy which won the championship in 1974 with Tom as the driver. Dad was a Mechanic/ Welder/ Operator/ Fabricator, not bad for someone not even completing the 7th grade. I would like to mention some of the people I remember growing up around the Vallejo family as a kid. Wayne Schoonover & family, Harold Leanord & family, Norm Baker & family, Carl Medford, Dick & Rick Karnes, and Tom & Sharon Million. And to a great step-mother any boy could have Sonja Adams. I'm gonna miss you Dad!!! Love John Vincent Adams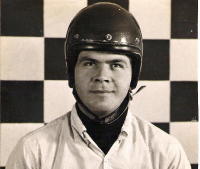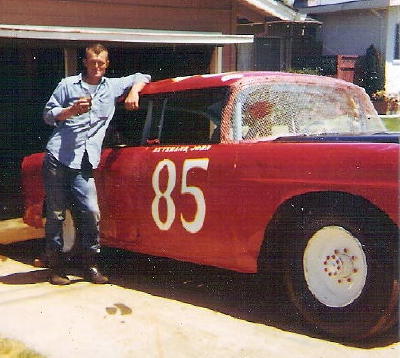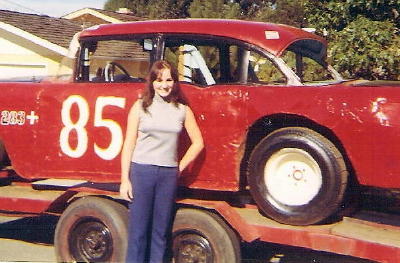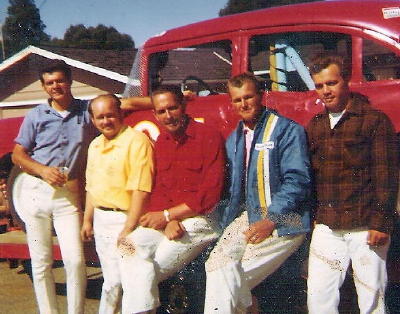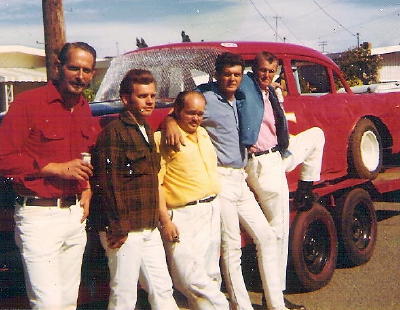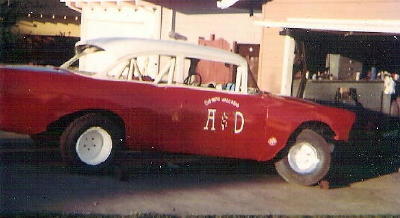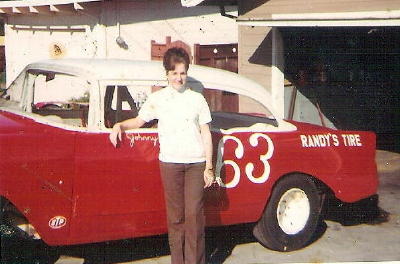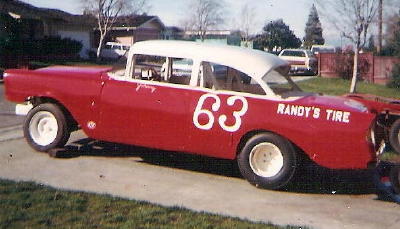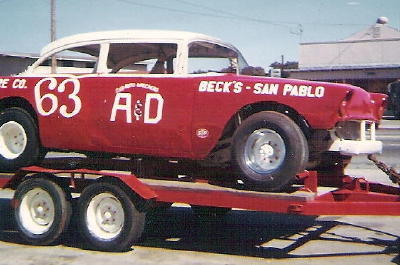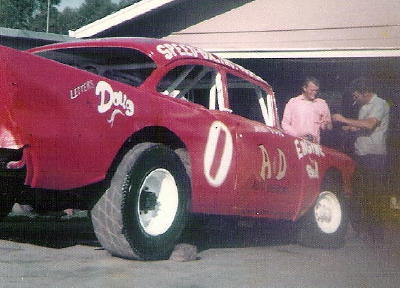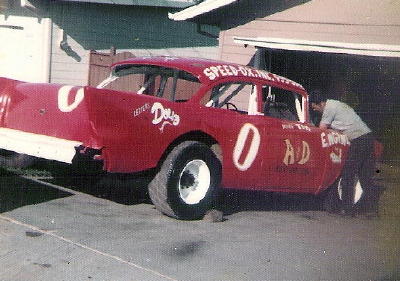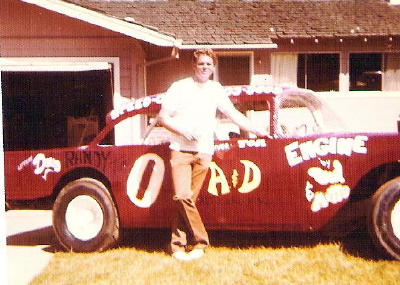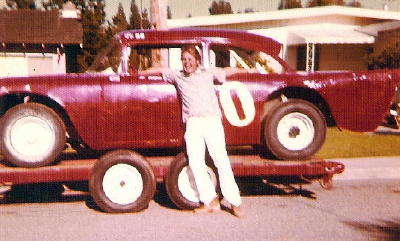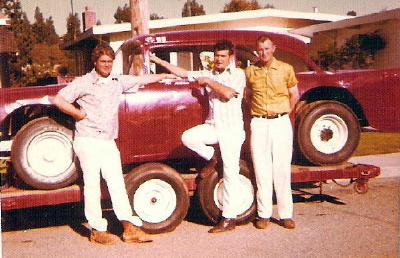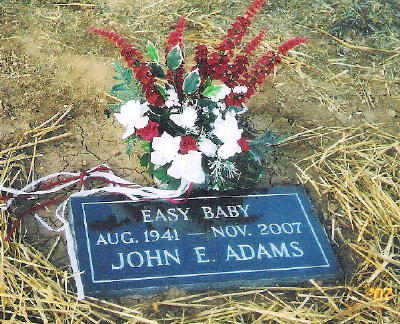 Wayne Schoonover stands by the just completed #85 stocker. He looks pretty happy with the way she turned out.

John's wife Sonja poses with #85 as it's all loaded up and ready to head out to Vallejo Speedway.

John, Wayne Schoonover, and the rest of the crew all decked out in their white pants (white pants were mandatory if you were in the pits back then) ready for speedway action.

Another shot of the guys before heading out to the speedway. I wonder what's in that can he's holding...I'm sure it's soda.

John's #63 is almost done in this photo.
A&D Auto Wreckers sponsored John's car and a few others locally.

Sonja & the car looking good and ready to go.

Old #63 ready to be loaded.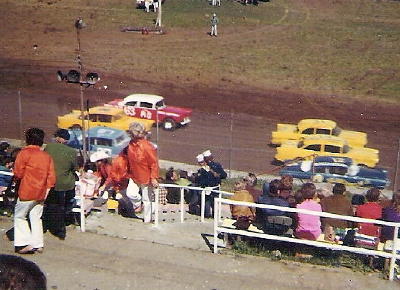 Old #63 loaded and heading out to Vallejo for opening day.

Stock Cars lining up for opening day action at Vallejo and John's #63 definitely stands out on the track.

The start of the 1974 season sees John make the jump from driver to co-car owner along with Wayne Schoonover. The new driver was Tom Million and Tom, Wayne, and John would go on to win the 1974 track championship.

There's a new car with a new number sitting in Wayne's garage on Kevin Dr. in 1974.

The car's ready, the crew's ready...well for photos at least. Both are looking good.

It's mine, all mine...everyone loves the cars when their finished.

Loaded up and ready Tom seems to be pointing out he's the one behind the wheel of this beauty. Looking at John in this shot, he seems to know 1974 would turn out to be a good year, in fact a championship year.

John was one of hundreds of racers that treated us to racing excitement weekly at Vallejo Speedway from the early 50's till 1979. John, like many of our Vallejo heros and the Speedway itself isn't with us any longer, but as long as we remember in our hearts and minds they will always be there...till we all see the Checkered Flag...R.I.P. John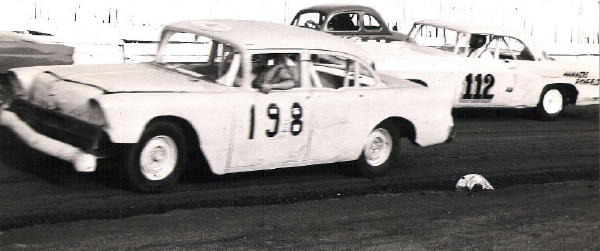 The #198 car John and Larry White took turns driving every other week. This is Larry White driving as he would always lay his arm out and John wouldn't.