That was where you could see all the action shots from last weeks show, no body could take action shots like Mr. Bob Bockover. If I was lucky I would talk Dad into buying one of those great shots. My Dad still has some of them and is in the process of scanning them so I can use them on this page in the future. Un- futurely most of them got lost during a move. The pictures here are from this 1975 program that I have....the only one I have left. I feel if we scan what we have and put it on the internet, then Vallejo Speedway's Hardtops will live on. If you have any photo's of old Hardtops (they don't have to be from Vallejo Speedway) you can
E-MAIL them to me
if you want them added to this page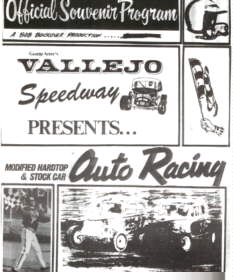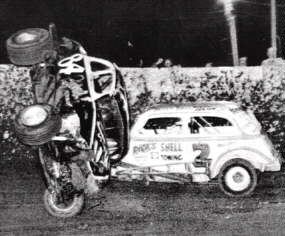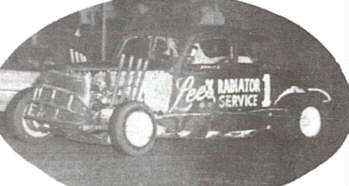 Vallejo Speedway Hardtops

From the early fifies till 1978 the Modified Hardtop division ran at Vallejo Speedway. Yah, I know it wasn't the only division that ran there, but it was my favorite. As a little boy I loved going to watch so much that my 1st job ever was selling popcorn, peanuts, and Coke at the track in late 1968 & all of 1969. My favorite drivers were Larry Damitz and Phil "BANG-BANG" Pedlar. I lived in the Vallejo area from 1962-1970. When we moved over to West Pittsburg (called Bay Point now) Antioch Speedway became our home track. As soon as I had my drivers license, I would always head back to Vallejo when I wasn't working. I remember attending the last race ever at Vallejo..... it was a real sad time for many. I remember buying a program at the last show from Mrs. Bockover at her picture booth. It was the 1st place I would head each week as a kid.

1975 Vallejo Speedway Program cover

That was where you could see all the action shots from last weeks show, no body could take action shots like Mr. Bob Bockover. If I was lucky I would talk Dad into buying one of those great shots. My Dad still has some of them and is in the process of scanning them so I can use them on this page in the future. Un- futurely most of them got lost during a move. The pictures here are from this 1975 program that I have....the only one I have left. I feel if we scan what we have and put it on the internet, then Vallejo Speedway's Hardtops will live on. If you have any photo's of old Hardtops (they don't have to be from Vallejo Speedway) you can
E-MAIL them to me
if you want them added to this page

#84 Doc Holiday takes a hard ride as #2 Laney Westbrook looks for cover

#82 Bill Wright gets hit by an unidentified driver

Larry Damitz runs the #1 on his Lee's Radiator Service car in 1966

# 100 Larry Damitz during the 1975 race season.

More 1975 race season action

A picture from an earlier program, not sure who drove it, but I believe it had a 6 cylinder motor in it.

# 14 Gary Hunt & #29(?) Larry Hobson sandwich a unidentified car

Pictures will always take us back to happier times in our memories whether it is the way it was or the way we want to remember them. I know everyone al ways will say things were simplier then, but believe me they were.I mean where esle could a kid hang out on the flag stand while the cars packed the track?

The starter Jumping Joe Valente would jump out on the track as the cars came around to start a race and point at them to clean up their act and they would. All the sponsors got annouced during the night and would sponsor program give-a-ways week in and out. You have an intermission long enough and you wouldn't miss any of the races. I know there wasn't a curfew way back then....we didn't have mufflers either....man am I feeling old right now. Like I said it was a way simplier time.

The cars would line up for the main event on the front straight for driver and sponsor introductions (none of this rolling out to the green flag B.S.) Then the roar of the engines as they came to life. With no mufflers back then, your stomach would virbrate with noise the cars would make as they came out of

turn 4 looking for Joe to throw the green flag. The cars pick up the pace the green waves as you barely hear annoucer roar their "They're Off and Rolling" The wild action had begun. As a kid it was always easier to keep track of just one car, but who to chose was hard, and with good reason. As Vallejo had some of the top drivers in the sport.

Larry Damitz, Phil Pedlar, Del Quinn (all 3 are still active drivers by the way) Roland Lokmor, John Viel, the Perry brothers, Jim and Earl, Gene Dudley, Chet Thomson Leroy Geving, Gil Richarson, Steve Mentch, Ted Finkenbinder, and and so many more. I'd pick one to follow through-out the race and before I knew it, it was all over way to soon.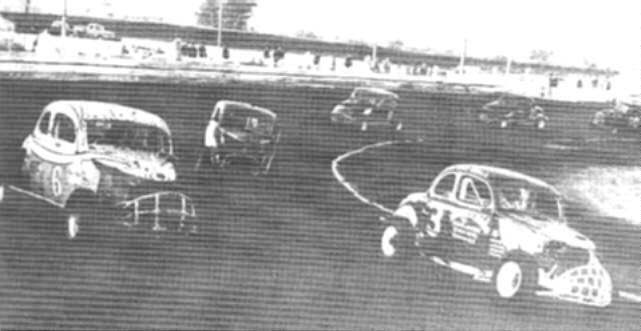 It was all over way too soon for that nights events and for the speedway as a whole. From the late fifties till 1979 Vallejo Speedway entertained thousands of race fans with everything from my favorites, the Hardtops, to Super Stocks , Hobby cars, Super Mods, Midgets, Sprint Cars and about anything on wheels. It was a great loss for me as I really loved that track.


Vallejo Speedway from the early 1960's from Don Martin"s page