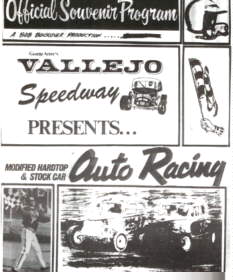 Vallejo Speedway Hardtops & Memories Pages

Vallejo Speedway hosted more than just the Hardtop class, there were Super Stocks, Street Stocks, Super Modifieds, Sprints, etc. If you have any photos from any division that raced at Vallejo E-MAIL them to me in ipg. format and we''ll keep the memories of Vallejo Speedway alive! 
Tina Thompson

Vallejo Speedway Posters

Tina sent us photos from a couple of Vallejo Posters her dad Joe Thompson had on his garage walls.

Sadly Joe passed away in June of 2010