Vallejo Speedway Hardtops & Memories Pages

Wild Bill Perry...Thoughts, photos, and stories from his son Rick Perry about his dad and Vallejo Speedway

This is great!............My name is Rick Perry. I now live in Salem, Oregon.
I used to go to the Speedway from almost the beginning. My dad raced in the roaring roadsters from 1947 to 1949,he was a WWII Vet. He started racing for the BCRA back in '49 in what he called the Jalopy's (Hardtops). I'll be sending some photos of him and some of his friends. Unfortunately the old racers from that era are almost all gone now. My dad (Wild Bill Perry) passed away on Oct.19, 1999. I've sent some pics of my dad to other websites, but I'm glad I discovered this one. Vallejo Speedway was an important part of my youth; I'll never forget it. My dad raced with Joe Valenti, Chet Thomson, Julian Castro, Gene Dudley, and Nelson Snow from San Pabloooooooooo! Earlier in the roadsters he raced with Fred Agabasian, Bob Sweikert, Bill Vuckovich Sr., just to name a few. He raced his last race on July 3rd 1954.He had a horrendous wreck in his coupe, he flipped 5 times end for end at Pacheco Speedway. He was unconscious for 3 days, he broke his neck, clavicle, and collarbone. He was lucky that he didn't have too many after effects from this, but he just couldn't keep away. You could always find him in the pits at Vallejo Speedway helping his old buddies with their cars. I miss him terribly...............I'll send you the photo of his wreck first, actually most of his pics involve a wreck, I guess that's why he was called "Wild Bill" Perry.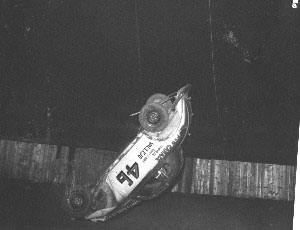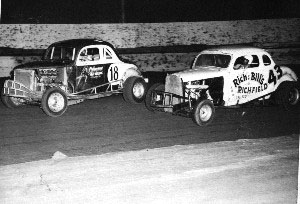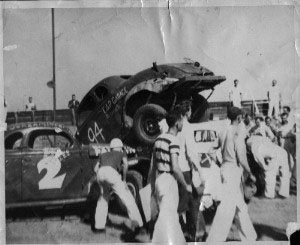 I saw the pic of Wally Baker, my dad also raced with him and I think he raced with his brother Mel also, before Wally went to race in Sacramento. My dad also raced on the 5/8 mile track a few times but I remember him saying that they had a hard time keeping it wet, it had a lot of chuck holes. This photo was taken at the 5/8-mile track in 1952.

That would be Landon Brown at the wheel. I'll send you a picture of it when it was Number 43.It was the only 6-cylinder car out there. It ran well enough to make the high semi-main. He was a tinkerer and loved his 300 cu.in. truck six. I remember one night when he had it out on the track during qualifying and it made the main and was about half way back in the field. Everyone was beside themselves in the stands as no one ever, I mean ever, saw that car run that fast before. That car was in fast company for that night. I'll tell you why later. It made the fast heat and won it, then pooped out in the dash, but after repairing it in time for the Main, he was actually running third at the time the engine let go. Landon never drove that car that hard before and it took its toll. That engine lasted about 4 years before this night. But there was a very good reason that this poor little six couldn't take it, a certain number 5 vehicle wasn't ready for the night's show so none other than Phil Pedlar was driving Landon's little six. It was up there with the big boys for one night, and if it would've held together, you never know what might have been possible. Pedlar had said what it lacked in power in more than made up for in handling and thus it was successful while it lasted. In all of my years that I went to the Speedway, that was one for the books as most of the fans for that one night were rooting for Landon Brown's little six cylinder.

Wild Bill Perry in action at Vallejo Speedway during the early 50's

During the mid-60's there was a six cylinder engined car that ran with the V-8s pitured here as the #43 it was wheeled by Landon Brown, here's a interesting story Rick sent about it.



The same car when it was the # 26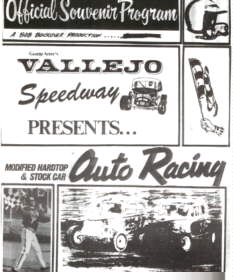 Thanks for sharing Rick, we hope to get more later